Accelerate your Desktop - Add the Speed of Solid State and SATA III to your Desktop PC or Mac Pro®
Upgrade your system to the latest SATA III interface (6Gbs) and add a high speed SSD to boost the performance to the max.
Take your desktop to the next level. Simple to install and with PCIe 2.0 data transfer speeds up to 400 MB/sec*, the Velocity Solo x1 enables you to experience the blazing speed of an SSD in your desktop via a super fast SATA III connection. Utilizing an Asmedia 1061 controller chip, the Velocity Solo X1 is bootable in both PC and Mac systems.
Takes just minutes to install
The Velocity Solo x1 takes just minutes to install. Simply connect your Solid State Drive to the Velocity Solo and slide the card into an available PCIe x1 slot (or larger) in your desktop. Once installed, transfer your OS and applications from your desktop hard drive to your new SSD using Apricorn's EZ Gig cloning software for PC systems, or for the Mac Pro use Apple's built-in Disk Utility. For additional capacity, the Velocity Solo also provides an additional SATA III data connection that can be used to connect to another SSD or hard drive.
Ideal for High Performance Applications and Improving Gaming Performance
Running your OS and applications on an SSD provides a measureable performance increase, but the Velocity Solo is also the perfect upgrade for improving gaming performance.
SSDs Improve Game Performance -
As games become too large for their assets to be fully cached on modern graphics cards and main memory, the addition of an SSD for faster disk access during game play results in less in-game pauses and a smoother playing experience. Games are also faster to load and save when using an SSD.
Boot in an instant, open applications in a flash, slash save and import times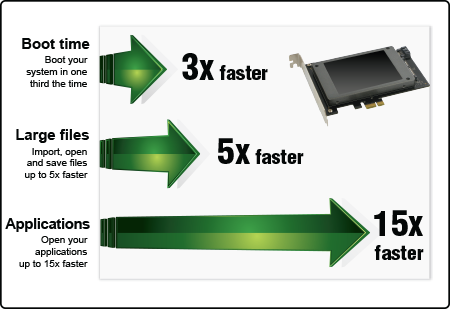 Velocity Solo fits all PCIe 2.0 slots
Comparison of Velocity Solo X1 and Velocity Solo X2